Equipe Rapide is back up and running. Our next event, as seen on the right, is at Port St. Lucie Fairgrounds on Sunday, September 11, 2022. THIS EVENT IS ON OUR NEW LARGE PARKING LOT.
We will go back to a one day event with 8 runs [4 in the morning, 4 in the afternoon]. Rollovers from the morning/afternoon type events require 2 events [example: a Morning and an Afternoon] to rollover into a full one day event, contact Carl before using a rollover, you will have his email on your prior registration. Registration is open at https://www.driverregistration.com .
About Equipe Rapide Sports Car Club
So, you see all those people driving cars thru pylons, testing and developing their driving skill and you think to yourself, "Self, This looks like fun, I wish I could do this in a fun and safe manner without officer Friendly writing me more tickets than Smokey and the Bandit"
Well, fret no more, ER Sports Car Club is here!
ER is devoted to setting up events that are fun and safe. Here's how you can be having fun, safely, with your daily driver without the fear of wreaking your life savings. All events are based around SOLO style competition. The events are setup using pylons to create a unique skills course. Cars are timed to safely separate each one.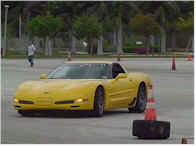 ER organizes events, usually held on a Saturday or Sunday. We get to the site at dawn to set up the cones, registration, and timing and scoring. At a usual event Drivers should be onsite by 8am to check in at registration, have their car examined by safety workers, and have plenty of time to walk the course. Drivers meeting at 9:30 and first car off at 10am.
Autocrosses are similar to the SCCA (Sports Car Club of America) SOLO II style event. This allows everyone to be safe, just you, your car, the cones, and the stop watch timing you! The top speed reached at some events by street cars might reach 55-60 MPH in short straight sections. Average speeds are in the low 40mph range.The course combines slalom sections with various and sometimes tight turns. Runs are done one car at a time, from a standing start. Bring food, non alcoholic beverages, sunscreen, a chair, and shade. Wear comfortable walking shoes and light colored comfortable clothing. Shorts are OK. Bring an umbrella or a rain suit. Driving in the rain is fun! Working in the rain is not as much fun as driving but builds character.
A excellent video on autocrossing:
We are a non profit 501 c 3 corporation and have no employees. Everyone is a volunteer. We kill cones for fun! If you are having fun and want to help organize events, come to our monthly meeting! We will welcome the help and have FREE PIZZA!