Equipe Rapide has just received this email from the St Lucie County Fairgrounds:
Pat, I am sure you are keeping an eye on the weather considering you have your event scheduled for this coming Sunday. Unfortunately, FPL is already moving trucks onto the parking areas starting today and does expect to be using the lots through the weekend; so I will need to reschedule your event . Do you have an alternative date you would like to consider to replace November 13?
Laura
Laura Cubbedge | Venue Coordinator: St Lucie County Fairgrounds & Savannas Recreation Area
Ph: 772-462-5214 | Fax: 772-462-2579 | 15601 West Midway Road, Fort Pierce, FL 34945
As such, in order not to step on other events, and ensure the Fairgrounds will come available [and without anymore hurricanes…], We are MOVING THE DATE TO DECEMBER 18th, 2022.
We are truly sorry, first GCAC lost their site for the year due to Hurricane Ian, and now we have lost our site due to Nicole for November. We hope that moving back to December, we give everyone a chance to make new plans.
All registrations will be moved over to the December 18th event. We will just keep registration open until December 15th. If anyone finds they can not make it, forward a copy of your registration to the email address it was sent from and ask for a refund. ER will remove your entry and refund your money to your Paypal account.
—————————————————————————————————————-
ER has opened registration for the 2022 Florida State Championship to be held in the large North East parking lot at the St. Lucie County Fairgrounds this December 18th, 2022. Gates open at 7:00 AM.
Registration is open at https://www.driverregistration.com/ . If you have any issues, please try using a computer and/or a different browser. If you still have issues, you can use the CONTACT US page to send a message.
Also, we recommend that if you're a first time autocrosser, the State Championship is NOT the place to learn. There will not be instruction and passenger [instructors/students] will not be allowed. Equipe Rapide will have a regular event in December and we will go back to our usual instruction/ride-along for students. This event is scheduled to be 4 runs and follow SCCA SOLO II classifications. NO MOTORCYCLE helmets allowed. There will be impound after each group.
Registration will close on Thursday, December 15th at 11:59 PM… We may accept limited onsite registrations, but to ensure your entry, we recommend you sign up ASAP.
For those of you coming from out of town, the hotels nearest are located on 70 near the Turnpike/I-95. While there is no specific hotel, I can personally recommend the Holiday Inn next to the Turnpike on 70.
Thank you,
Carl Couric
President – Equipe Rapide Sports Car Club
Equipe Rapide older news:
2022 Florida State Championship UPDATE – Due to Hurricane IAN, the cleanup over in Fort Myers has had a negative effect for our fellow autocrossers in Gulf Coast Autocrossers, GCAC. They were scheduled to hold this years event. As such, Equipe Rapide is swapping years with GCAC and will hold the 2022 Florida State Championship at Port St. Lucie Fairgrounds on November 13. We will have a championship course designed by David Marcus who has a few National Championships under his belt. We are also gauging interest in a practice day on Saturday, November 12.
As soon as our next event's registration is closed, we will open registration for the State Championship on www.driverregistration.com. We do need remind everyone that ROLLOVERS are NOT allowed for the State Championship, you must register and pay independently for this unique event.
About Equipe Rapide Sports Car Club
So, you see all those people driving cars thru pylons, testing and developing their driving skill and you think to yourself, "Self, This looks like fun, I wish I could do this in a fun and safe manner without officer Friendly writing me more tickets than Smokey and the Bandit"
Well, fret no more, ER Sports Car Club is here!
ER is devoted to setting up events that are fun and safe. Here's how you can be having fun, safely, with your daily driver without the fear of wreaking your life savings. All events are based around SOLO style competition. The events are setup using pylons to create a unique skills course. Cars are timed to safely separate each one.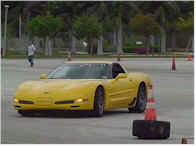 ER organizes events, usually held on a Saturday or Sunday. We get to the site at dawn to set up the cones, registration, and timing and scoring. At a usual event Drivers should be onsite by 8am to check in at registration, have their car examined by safety workers, and have plenty of time to walk the course. Drivers meeting at 9:30 and first car off at 10am.
Autocrosses are similar to the SCCA (Sports Car Club of America) SOLO II style event. This allows everyone to be safe, just you, your car, the cones, and the stop watch timing you! The top speed reached at some events by street cars might reach 55-60 MPH in short straight sections. Average speeds are in the low 40mph range.The course combines slalom sections with various and sometimes tight turns. Runs are done one car at a time, from a standing start. Bring food, non alcoholic beverages, sunscreen, a chair, and shade. Wear comfortable walking shoes and light colored comfortable clothing. Shorts are OK. Bring an umbrella or a rain suit. Driving in the rain is fun! Working in the rain is not as much fun as driving but builds character.
A excellent video on autocrossing:
We are a non profit 501 c 3 corporation and have no employees. Everyone is a volunteer. We kill cones for fun! If you are having fun and want to help organize events, come to our monthly meeting! We will welcome the help and have FREE PIZZA!